It's easy to get lost in all the dry herb vape pens options and features but finding a vape pens that's right for you is the trick. Some people are very casual about vaping and may have to be extra discreet. That means they need a pen that's small in size and can be hidden when needed. Other users may not have a discretionary concern and only want to focus on top quality. What if you needed both? Some vape pens do offer small compact size with the type of quality you would expect with an Apple product.
---
PAX 2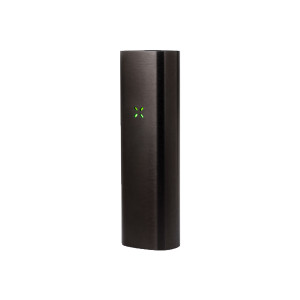 The PAX 2 might as well be in it's own category. With it's super sexy metal design, 4 temperature settings and motion sensor auto shutoff it's more inline with an iPhone! I personally love the battery capacity and how it always last longer than most dry herb vape pens. When you put the PAX 2 up to your mouth it just knows what to do. It's got motion sensors all over the place. Also if you're in need of a discreet vape pen then this is for you. Not to mention that It's considerably smaller than the PAX 1 and lighter than most dry herb ape pens. Ploom has great customer service too. I called to ask a a specific question and without the run around they provided me with actual useful help.
Go ahead and treat yourself with one of the best dry herb vape pens on the market. Once you hold the PAX 2 you won't be able to deny its quality and durability.
The Crafty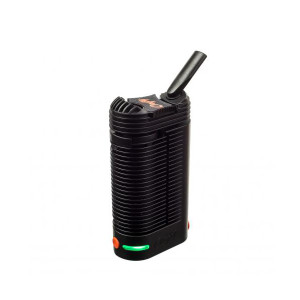 Storz and Bickel have been manufacturing some of the best vaporizers for years now. I remember the first time I tried the Volcano! I think that was the first time I saw a true vaporizer. The Crafty is everything packed into a dry herb vape pen. With a true full convection hot air system, lithium battery and wireless Bluetooth app it's hard to find a better vape pen. The app (which is available for iPhone and Android) gives you even more control over the vape pen. You can change temp settings, change the LED brightness just to name a few. Also included with the Crafty is a steel pad for wax & oil concentrates. Did someone say "the Rolls Royce" of vape pens? I did because it's so true!
G Pen Elite
The new Elite dry herb vape pen by G Pen has made our list for the best dry herb vape pens. G Pen has really stepped up and out did them selves with this new 100% ceramic heating chamber. The Elite also features a handy digital display that shows temp settings and heat info. The G Pen Elite really fits nicely within it's price point and seems like it will be a main stay within the vape pen world.
Kandypens K-Vape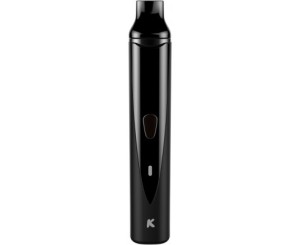 I love this pen! Great design, cool K light source and its easy to use. The K-Vape heats up really fast too. Really helps out when you've only got seconds to puff. You can basically pack about a half a gram into this bad boy and still get great hits. Puff preference really depends on temperature control. You can read our full review here.
The K-Vape has 3 temp settings 360°F, 380°F and 420°F. I noticed that it's a second-generation K-Vape pen, which is good because typically second gen products carry over all the benefits learned from the first generation. Kandypens says it has something called "True Convection Technology ™" which sounds good but I can't find any additional information about it.
This is really a great pen for anyone, beginners or pros. If you're a casual smoker that typically rolls your dry herb or packs a bowl this is a perfect transition pen. If you fancy yourself a pro, this pen is on par with a PAX or other high-end dry herb only vape pens.
Zema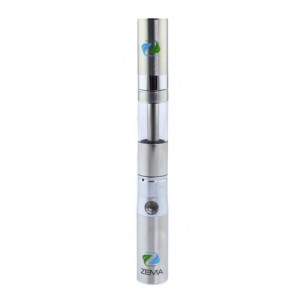 The Zema Dry Blend vape pen is not only vapes dry herbs but it also vaporizes concentrated oils. This vape pen has a very durable solid design. The stainless steel body houses an elongated ceramic heating that can heat up in 5 secs! That's fast. Because it works great in any altitude, it's the perfect vape pen for the active person. You can run a race, bike a trial or climb a mountain with this vape pen and still puff away. With it's size and silent operation it makes it discreet and portable. The Zema comes packed with a lithium ion battery, which allows for hours of vaping.
Definitely recommend the Zema dry herb vape pen to active, outdoorsy people. Because this vape pen is so straight forward anyone, beginner or pro, would love to have this.
Pulsar® Vibe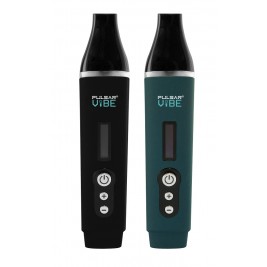 This is a digital vape pen. The Pulsar Vibe has a very useful LED display that shows you the battery life and temperature settings. You get a temp range of 350° to 430° that's easily changeable by clicking the up or down buttons. The heating chamber is a nice size allowing about .5 gram of dry herb. Just remove the mouthpiece to refill. I've heard beginners are using this dry herb vape pen because it comes packed with digital vaping power with the ease of use of a non-digital pen. Not to mention how easy it is to clean.
This guy is recommended for anyone. For the beginner, just remember to experiment with temperature settings. That's the only way you will figure out your preference to heating the dry herb. Pros will love the versatility in this vape pen.
Cloud Terra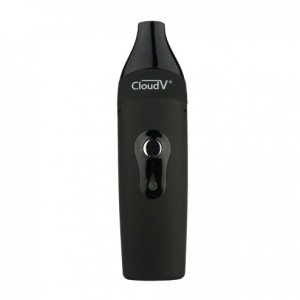 The Cloud Terra vape pen is really high quality. You know it when you hold it. Right out of the box it's ready to vape. This dry herb vape pen only has 2 temperature settings 375 °F and 310 °F. This is somewhat of a limitation but the Terra makes it up with good ease of use and quality. Included in the box is a cleaning brush and packing tool. The cleaning brush is awesome and I end up using it on my other vape pens. The packing tool is pretty industry standard and I don't really use it. The Terra has great battery life with a 2200 mAh rechargeable battery.
Beginners or Pros, all you really need to consider is how simple do you want your dry herb vape pen to be? That doesn't mean cheap, that means clean design and ease of use.
Save
Save
Save
Save
Save