The Pros
Exceptional ease of use
Three types of coils for all types of wax and concentrate
Three setting temperature control
Slim, attractive, and durable design
Exceptionally comfortable mouthpiece
The Cons
Because Dr. Dabber is the first to introduce SnapTech fittings on a vape pen, you can't interchange parts or accessories from other companies. You will have to buy new atomizers or batteries from Dr. Dabber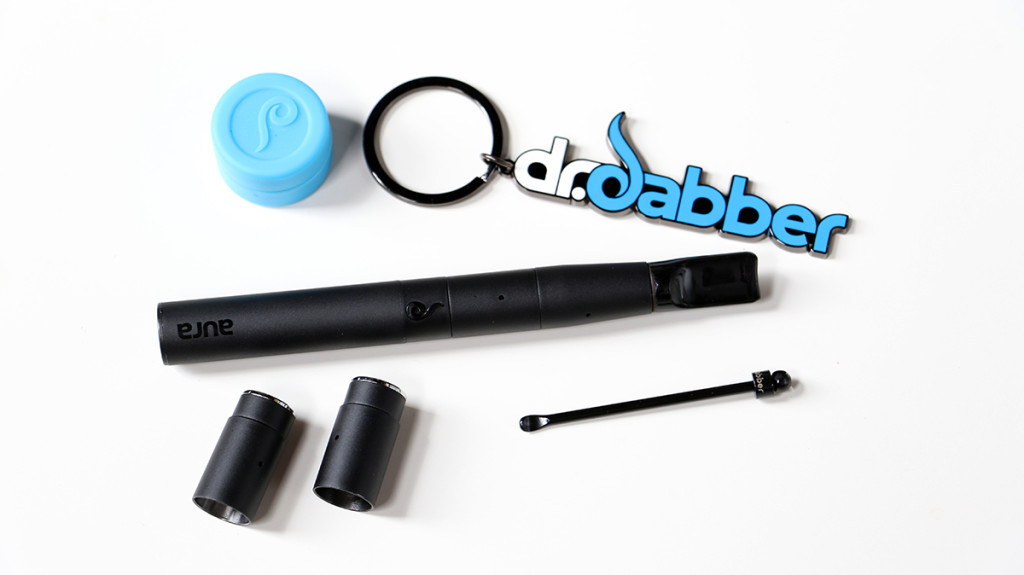 The Dr. Dabber Aurora vape pen has all the main features you want in a vaporizer for concentrates of all kinds. It has a variable voltage battery, giving you a range of control over temperature setting from cool and slow to hot and heavy. The slim and comfortable body design has a durable matte finish and bright but small LED lights, making the Aurora attractive, easy to use, and discrete. The USB charger and built-in battery are simple to charge and covered by warranty.
But most of all, this new vape pen has the first of what may be destined to become an new industry standard in the future: A magnetic snap together technology eliminating 510 screw threads on the atomizer chambers and battery, making this pen incredibly easy to use and maintain. The technology is called SnapTech Magnetics. The magnets are strong enough to hold the pen together in your pocket or purse, but they pull apart in a snap when you are ready to switch coils, clean, or charge the unit.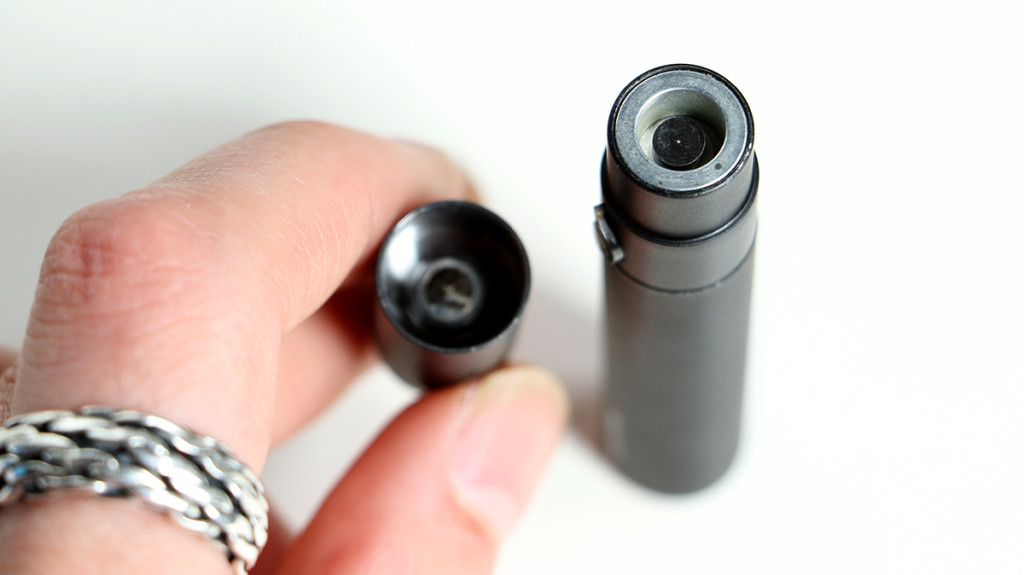 Dr. Dabber has done it before when they released the first titanium coil technology in the Ghost vape pen in 2013. Titanium coils were a big improvement over earlier materials, because they heat slowly and vaporize the material more slowly and evenly. They also solved the problem with other types of coils which add unpleasant tastes and possible health risks to the vapor.
Titanium coils are now a standard in the vape pen industry in higher quality vaporizers. Now Dr. Dabber is leading the way again with their innovative SnapTech Magnetic attachment system for assembling and disassembling this vape pen.
---
What's in the box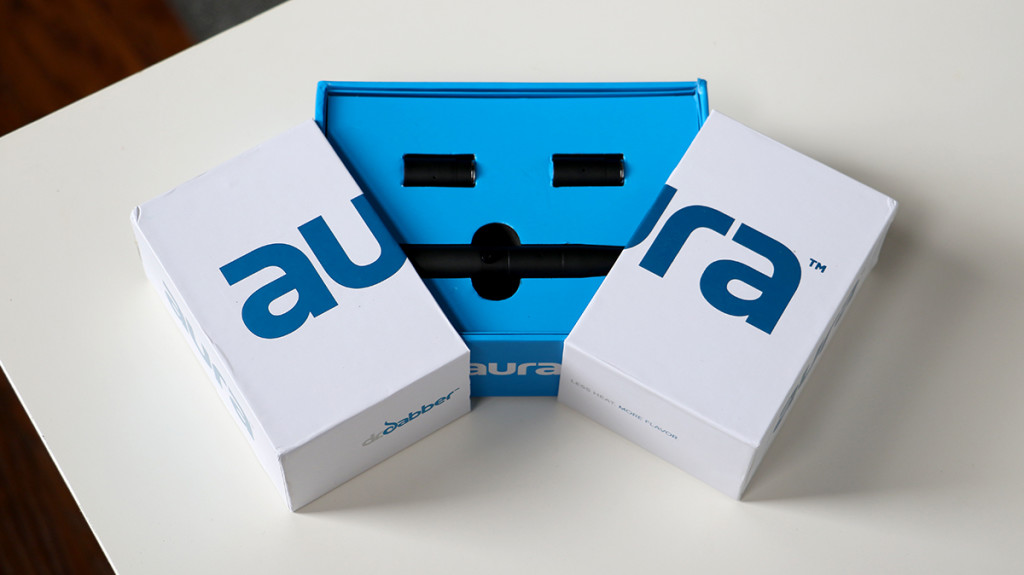 The compact box slides apart to open. Inside are:
One Dr. Dabber Aurora vape pen unit,
One dab tool for filling the chamber,
Two additional atomizers,
One USB charging cable,
A concentrate container,
An easy to read user's manual.
The pen comes apart into the three sections of mouthpiece, battery, and atomizer using SnapTech Magnetics technology. This is the first vape pen using this attachment system. All of the atomizers coming with this vape pen use a magnetic attachment for snapping into place, making them super easy to switch out and interchange.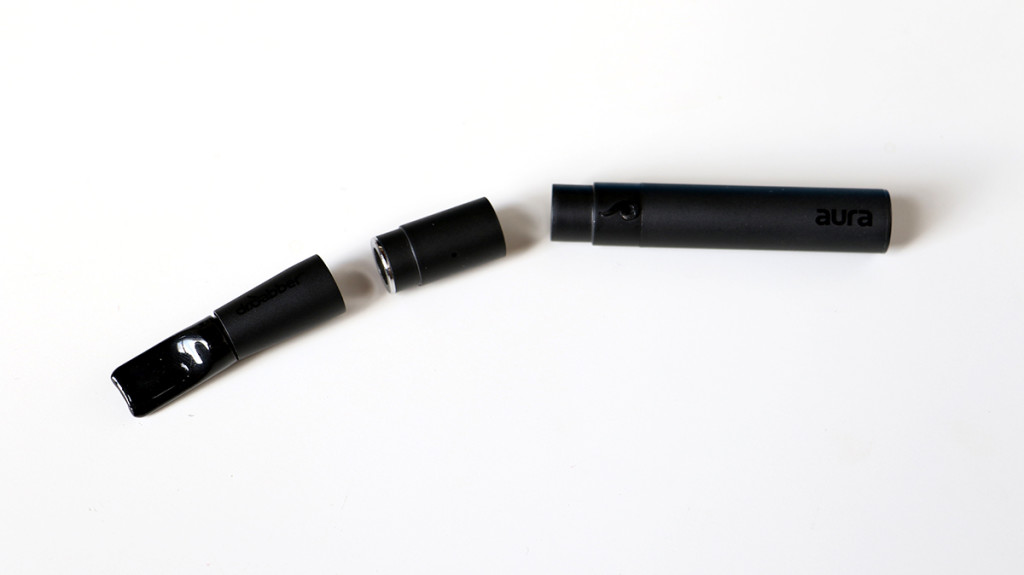 The magnets are not visible when the pen is assembled, so they don't distract from the attractiveness of the outside design in any way. They are strong enough to stay solidly in place when the pen is put together. But they come apart easily enough when you are ready to change coils or do some maintenance.
The Aurora is shaped very similar to the Dr. Dabber Ghost pen released in 2013, and the Aurora feels like an Apple product. The Aurora has a matte satin exterior and a slim, easy to hold design. In shape and size, the Aurora is similar to Galaxy Donuts and KandyPens vaporizers.
---
The Mouthpiece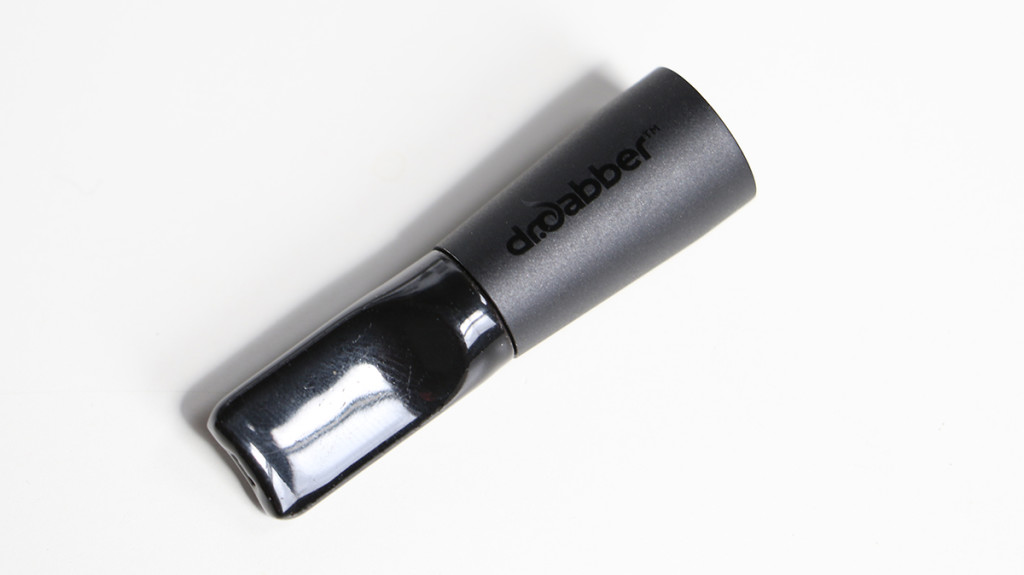 Next to the Snaptech Magnetic technology on this pen, the design and craftsmanship in the mouthpiece is the next most outstanding feature. The mouthpiece on this vape pen is made of a ceramic material instead of plastic, as in most vape pens. The mouthpiece on the Aurora is sturdier and more pleasing feeling on your lips than any other vape pen mouthpiece I've tried.
The mouthpiece on this pen also does not get as hot as on other pens due to being constructed of more insulating ceramic and not a heat conducting plastic typically used in vape pen mouthpieces. The ceramic material also is likely to be healthier for putting into your mouth than plastic. The mouthpiece is the most intimate part of a vape pen. It's really a pleasure to use a pen with such quality design in this important part.
The contoured design of the mouthpiece is built for both airflow and ergonomics in handling, and the manual says it is "clog free". So far, so good.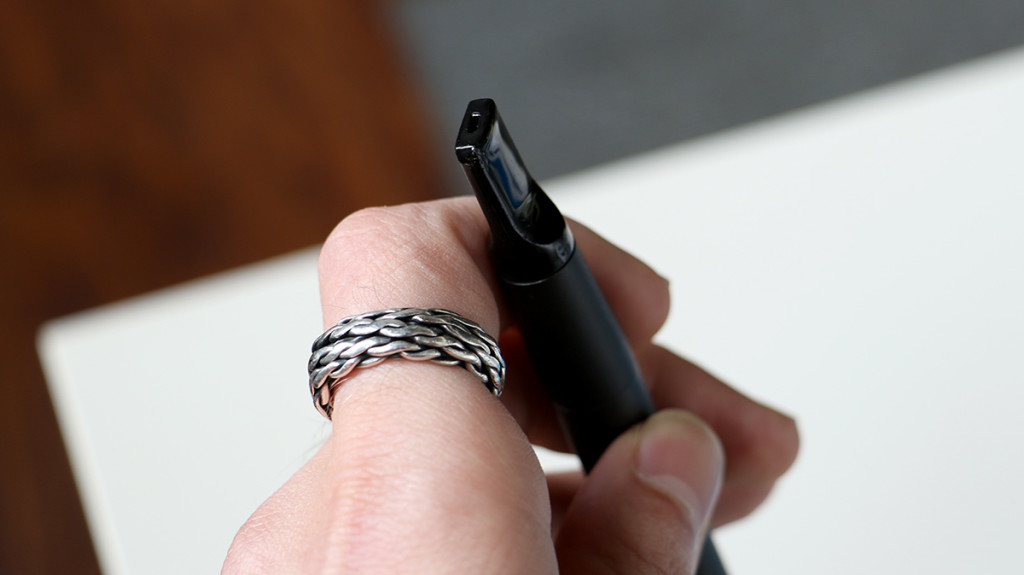 The mouthpiece is connected to a chamber referred to as the "airflow regulator" which has a vent hole increasing the ease of drawing on the pen. The outside ring of this piece has the Dr. Dabber logo etched on it.
The slim design of the pen and the dynamics of the airflow regulator seem to work best with long, slow draws, especially on lower temperature settings.
The mouthpiece is the one part on the Dr. Dabber Aurora that does not use the Snaptech magnetic attachment system. Instead, it is connected to the rest of the pen by friction using a small O-ring, as is used in many other pens.
Keeping this O-ring clean and debris free is important on this pen, as in others, for preventing air leaks and getting efficient use. The O-ring looks standard, and they can be replaced if they get lost or damaged.
---
The Chambers and Atomizer Coils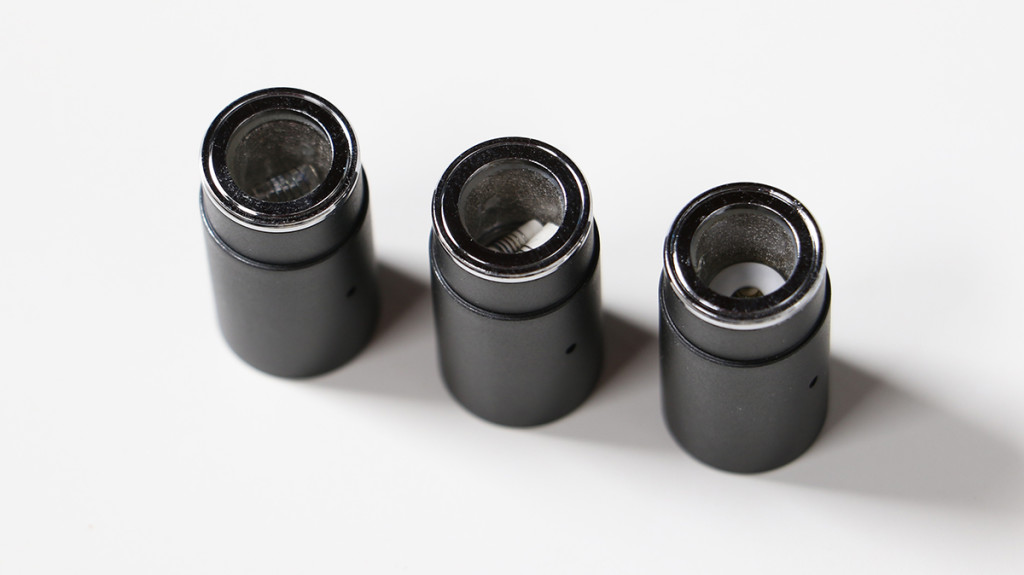 The Dr. Dabber Aurora vape pen kit comes with three types of coils, each attached to its own chamber.
A dual ceramic rod coil. This is the standard type of atomizer coil used in many vape pens now, but this one does not use a wick atomizer like the Dr. Dabber Ghost and many other models do. The titanium rods are also a higher quality material, and they produce better flavor than other materials. Best for high viscosity concentrates.
The Ceramic Halo coil is a design often called a 'donut' atomizer. It holds the concentrate in a ceramic bowl and keeps it out of contact with the heating element, producing a cleaner vapor with little or no burnt after taste. Best for oilier waxes.
The dual quartz rod coil that comes with the Aurora is the most advanced and health conscious design in this kit. Both the rods and the chamber in this atomizer coil are quartz for the cleanest vapor currently possible. Best with low viscosity concentrates.
The chamber on each of the three atomizer coils is quartz lined on all sides. All of the chambers have a holding capacity of about half a gram of concentrate when packed full. But packing the chamber full on any pen is not a good idea, because it reduces the vaporizing efficiency and makes it harder to draw.
A maximum chamber filling of about seventy percent gives you the best chance of avoiding clogs and getting good draws without too much effort. Most sessions do fine with a chamber fill of around .3 grams, and .1 grams is about the lowest amount you can load and still get results.
Because waxes and concentrates differ in consistency and viscosity, the three types of coils that come with the Aurora give you lots of flexibility for matching your coil to your concentrate.
While the flavor of lower quality concentrates may be something better to avoid, good quality waxes and oils can have interesting flavors which come to life at the right temperature and in the right coil. Each coil has its own special qualities as it interacts with the chosen temperature setting, effects the flavor of the concentrate, and how it changes vapor cloud size. Each coil also has a type of concentrate that work best in that type of coil.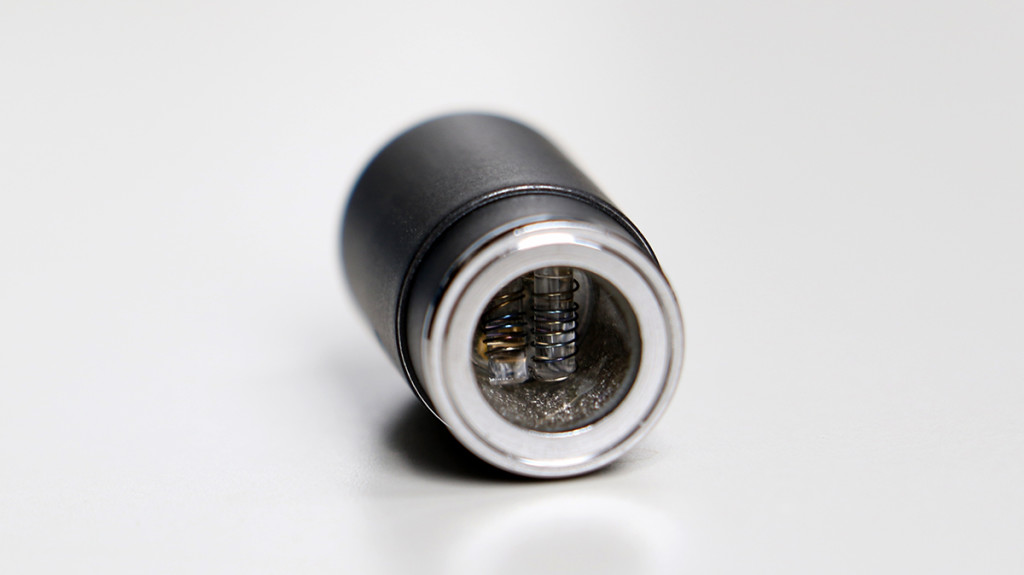 The dual quartz and donut atomizer that come with this vape pen do not have the exposed wires or wicks seen in other kinds of coils. This is a new advance in vape pen technology and produces a cleaner and healthier vapor and little or no burnt taste.
These kinds of coils are more advanced and create vapor more evenly and slowly making for a more satisfying vaping experience. The Aurora also includes one classic style dual rod ceramic atomizer for those who prefer the original atomizer technology and for some concentrates which vaporize best in this type of coil.
Stickier, low viscosity concentrates work best in the dual quartz rod atomizer. The ceramic halo atomizer vaporizes oilier waxes very efficiently. The dual ceramic rod atomizer is the best one for higher viscosity concentrates.
Vape pen manufacturers are increasingly moving from ceramic chambers and going to quartz, which has the same inert properties as glass. Ceramic chambers can give off a burnt flavor after being used for a while. The newer quartz coils are less harsh, produce cleaner vapor, and draw better than ceramic. Quartz rods also look really nice inside the atomizer.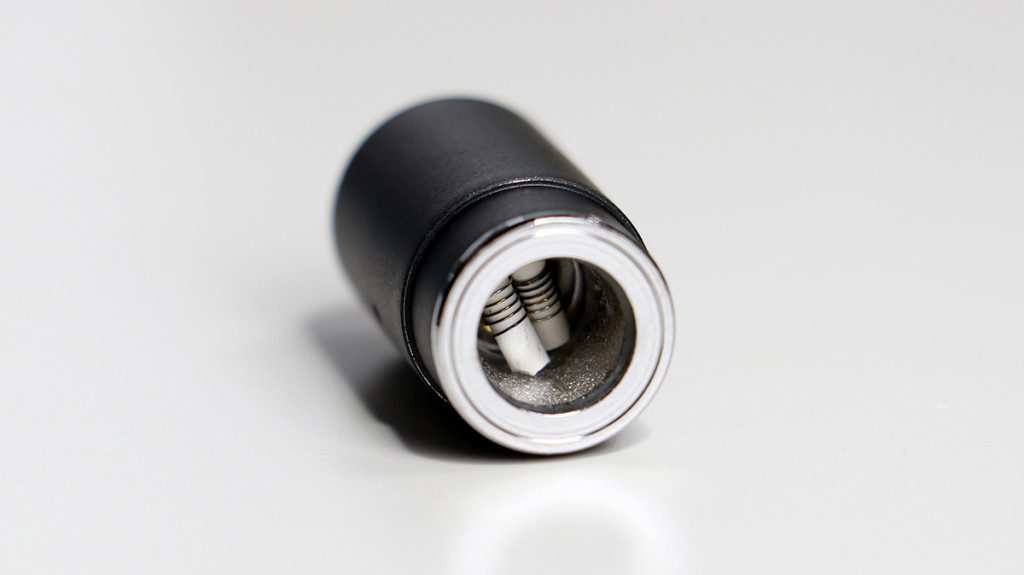 The ceramic atomizer coming with the Dr. Dabber Aurora is unlike other traditional wick-style, ceramic atomizers. It's made with higher quality titanium rods, and the concentrate sits in a 'donut' chamber without coming into direct contact with the heating elements.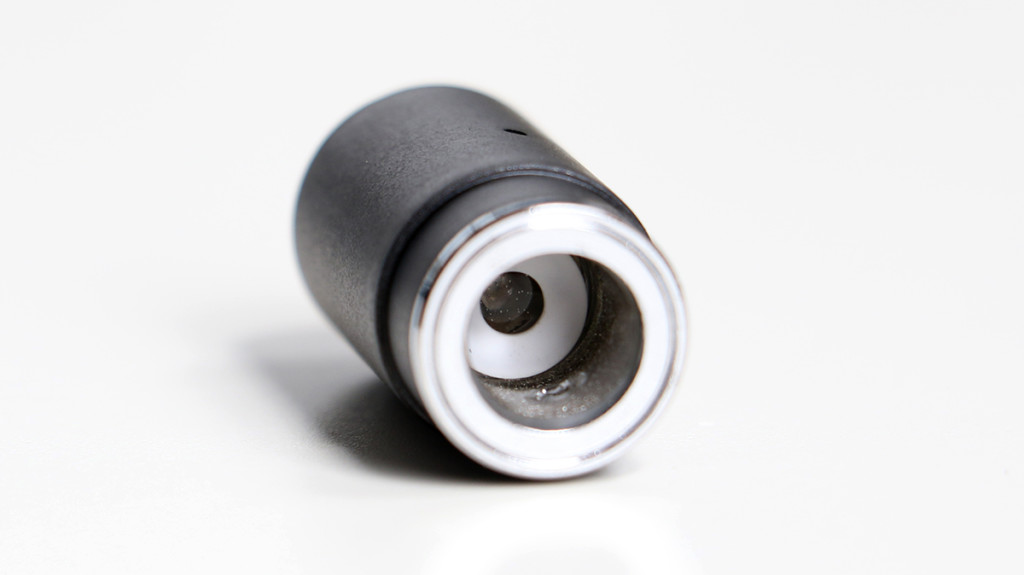 Dr. Dabber calls their 'donut' a 'ceramic halo'. This design also lets the concentrate vaporize at a slow pace and a lower temperature, producing more flavor and making it easier on your throat.
---
Functionality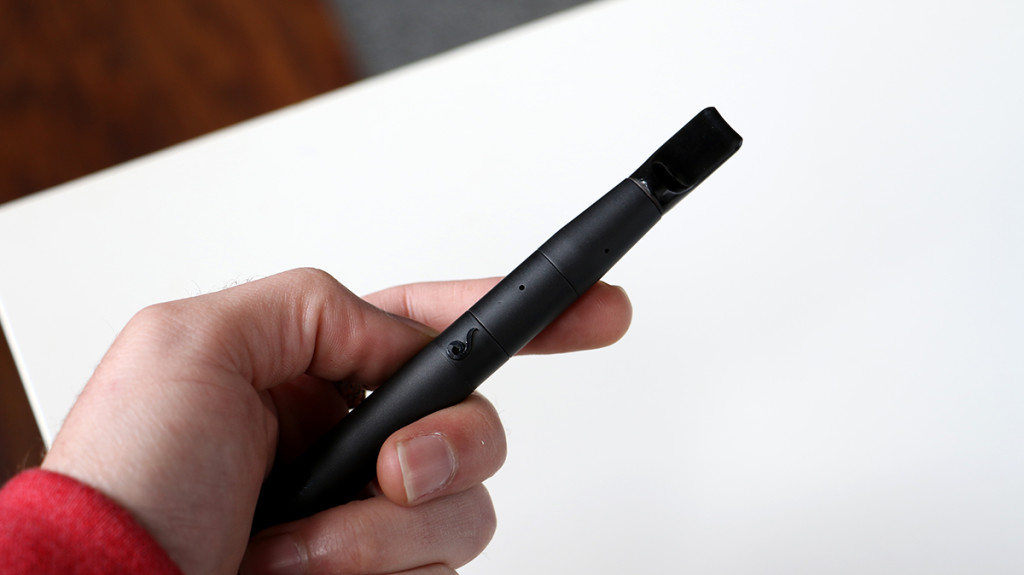 This pen has the now-standard on-off, five-click power button. Toggling the power button three times after the pen is turned on lets you adjust the temperature settings between the three options of low, medium, and high. The bottom of the battery end of the pen has the Dr. Dabber logo of a small 'd' which changes color for the different temperature settings. A green light indicates low heat, medium is pink, and high is purple.
The functionality of the Dr. Dabber Aurora vaporizer pen is especially enhanced by their innovative SnapTech magnetic attachment system. It makes taking the pen apart and keeping it clean extra easy. There is no worry about cross threading or over-tightening 510 threads, and the magnets are easier to clean than threads. You just wipe them down with some isopropyl alcohol, dry it off, and snap the parts back together.
The LED lights are bright and easy to read without being flashy or obvious to others. The heat settings are well-calibrated and allow you to get lots of flavor out of high-quality concentrates and waxes.
---
Battery and Charger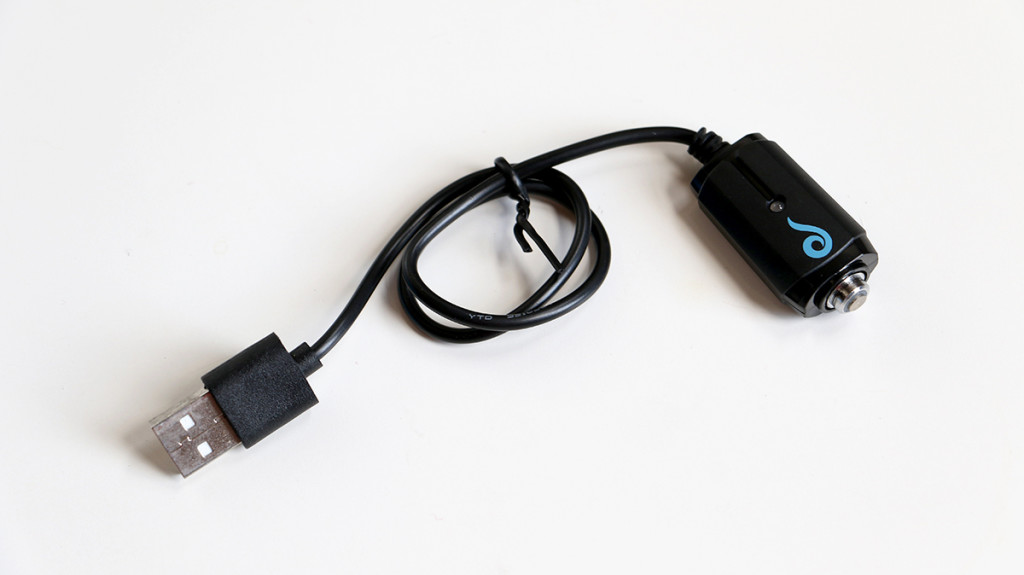 The battery on the Aurora is powerful and variable, letting you adjust the temperature settings between high, medium, and low for the flavor and vapor feel you like best. Lower settings are great for extended vaping sessions and for conserving on battery life. Higher settings get you were you want to go quickly, but they do use up more battery charge and produce a hotter vapor.
Charging the Aurora is also enhanced with the SnapTech attachment system. A magnetic USB cable attaches to the pen on one side and a laptop, iPhone, or car USB port for on the other for easy charging. The battery has a one year warranty.
Pros
Exceptional ease of use,
Three types of coils for all types of wax and concentrate,
Three setting temperature control,
Slim, attractive, and durable design,
Exceptionally comfortable mouthpiece.
Cons
Because Dr. Dabber is the first to introduce SnapTech fittings on a vape pen, you can't interchange parts or accessories from other companies. You will have to buy new atomizers or batteries from Dr. Dabber.
Price
The Dr. Dabber Aurora is priced at around one hundred dollars. This puts it in the mid-price range for vaporizer pens and is a reasonable price for a pen of this quality.
---
About Dr. Dabber
The Dr. Dabber Company is based in Boyton Beach, Florida. It is a small company founded by vaporizer enthusiasts with a mission of producing high quality vape pens which reduce health risks while creating a satisfying vaporizing experience. Dr. Dabber's first release came in 2013 with the Ghost vape pen.
---
Final Thoughts
The Dr. Dabber Aurora vape pen is a truly outstanding vaporizer for its innovative magnetic assembly system, extra comfortable mouthpiece, atomizer options, ease of use, and affordable price. This vape pen is versatile without being complicated and is a great choice for people new to vaping waxes and concentrates and old pros alike.
Want 10% OFF? Use promo code: VPPRO10