As the name says, the SUBOX powers up to 50W. The mini tank has a capacity of 4.5ml. The OLED display allows you to really dial in your temperature while also displaying battery life. One downside is this kit does not come with a battery. Let's begin!
---
Whats in the box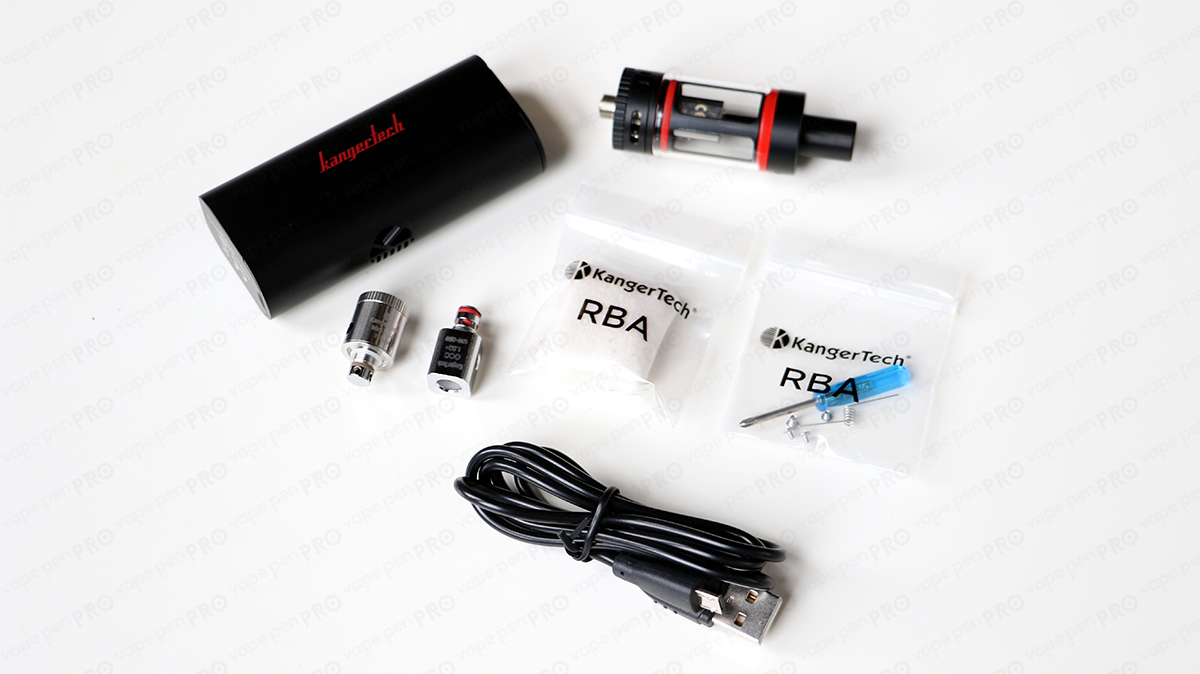 The SUBOX Mini comes with some useful components right out of the box.
1 x Subox Mini MOD
1 x Subtank Mini Tank
1 x OCC Sub-ohm 0.5ohm / Range: 15W – 60W
1 x OCC 1.5ohm / Range: 10W – 26W
4 x RBA Coil (Japanese Organic Cotton)
1 x RBA Base
1 x Screw Driver
2 x Screws
1 x User Manual
---
The MOD Box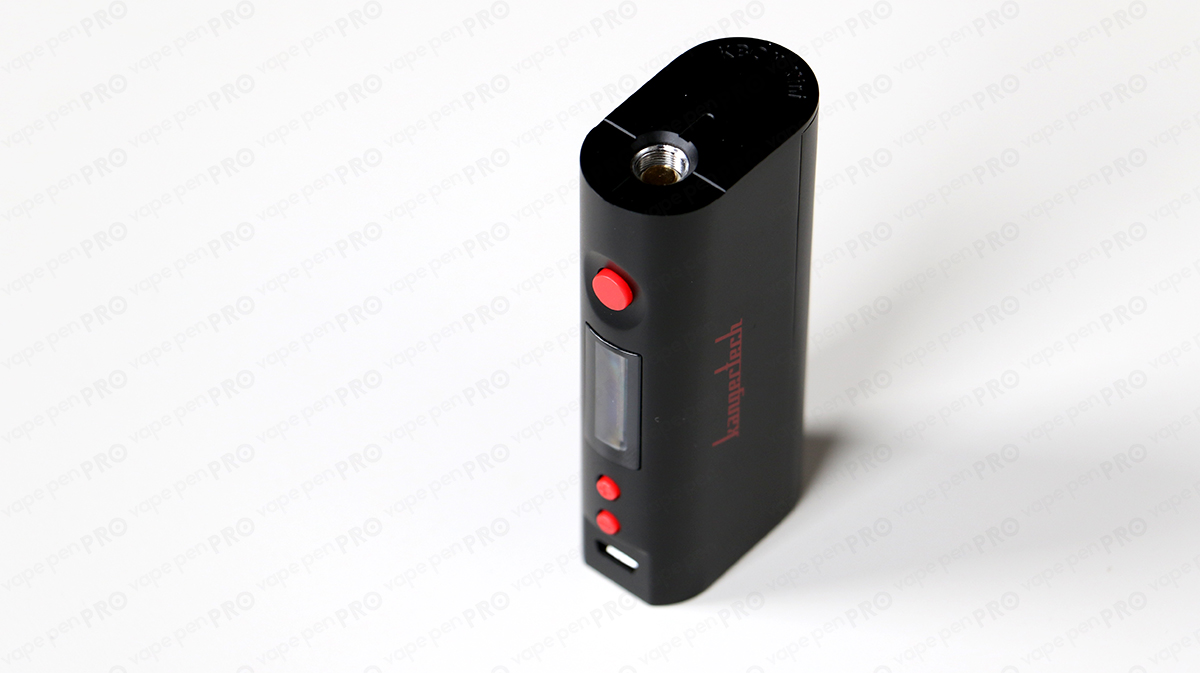 Kanger really out did itself with the SUBOX MOD. The casing is Zinc Alloy and the entire unit weighs 110g. When you pick it up you can tell it's built well. It feels like it will last a long time. It's 3.23 inches high making it very portable.
The OLED display is easy to see and read, making wattage adjustment simple, while simultaneously letting you keep an eye on the battery charge. The buttons are an easy to see red color and are labeled, so you won't get them mixed up.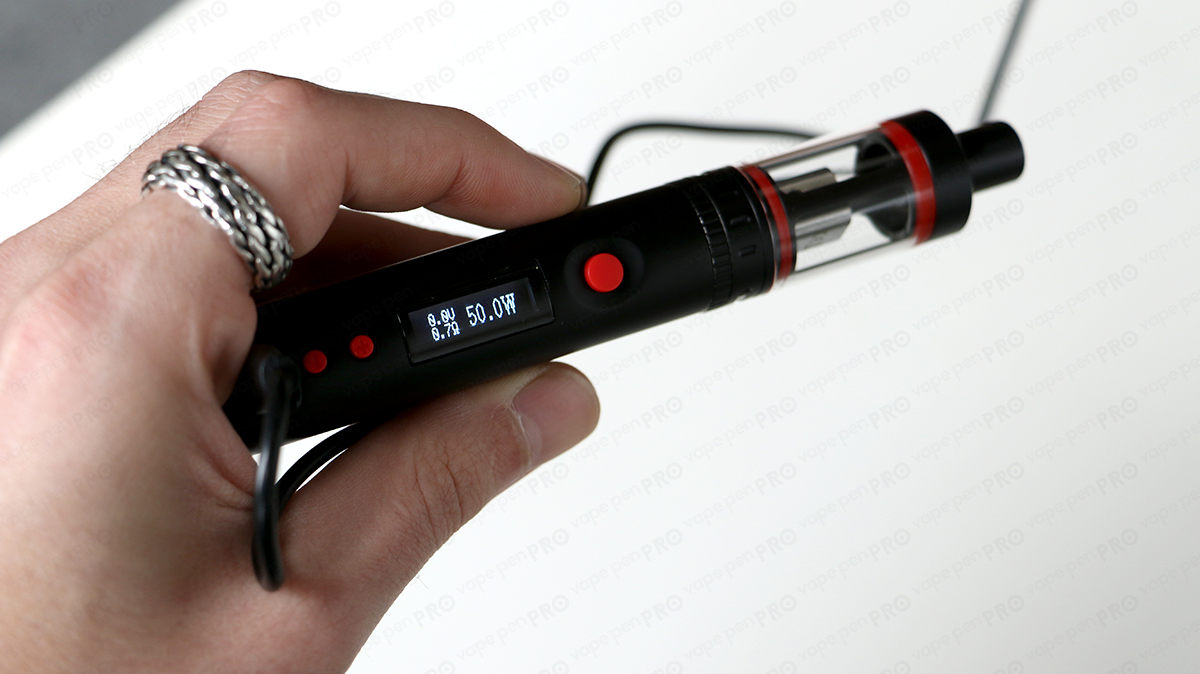 ---
Not so Mini Tank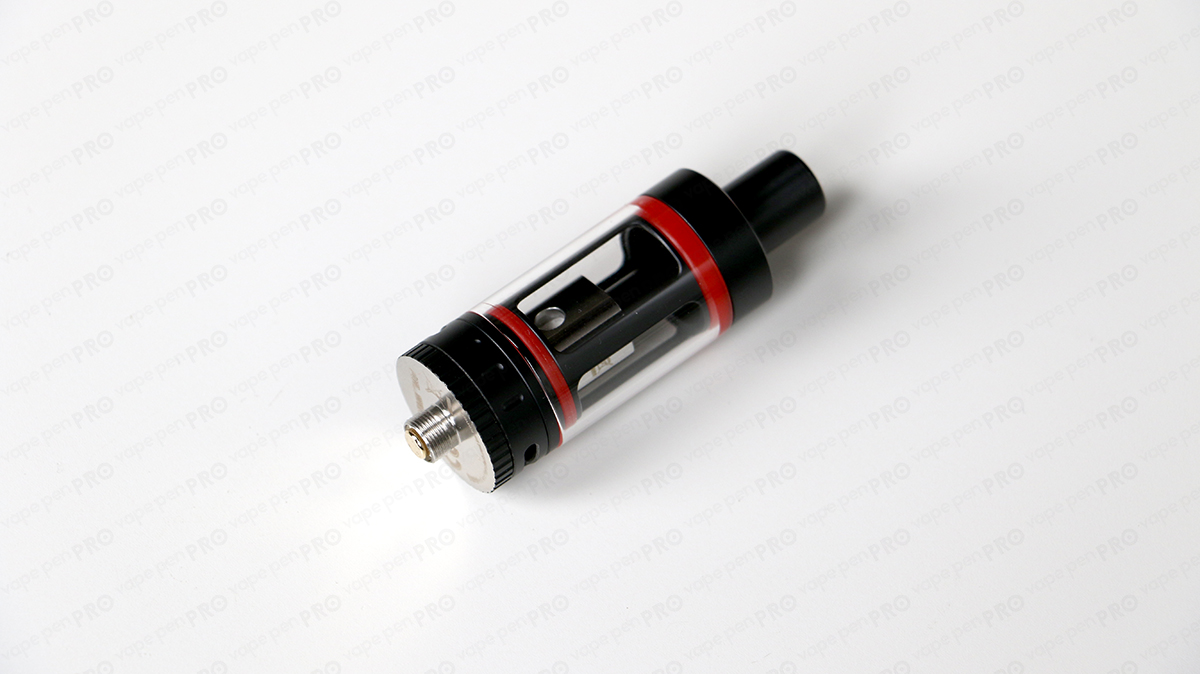 The tank is an improvement over earlier tanks by Kanger, because it has a tip and tip connector built out of the same zinc alloy as the casing. This design is more durable and less likely to have problems with airflow and leakage. The glass chamber is made of break-resistant Pyrex and is especially well-built and strong.
OCC & RBA Coils
The Kanger SUBOX Mini comes with versatility. The kit includes two OCC coils, a mini RBA coil, and cotton for building the RBA. This gives you a lot of flexibility for getting the flavor and vapor thickness you like best, or, running the devise with a coil that saves on battery use, but still comes through on vaping pleasure.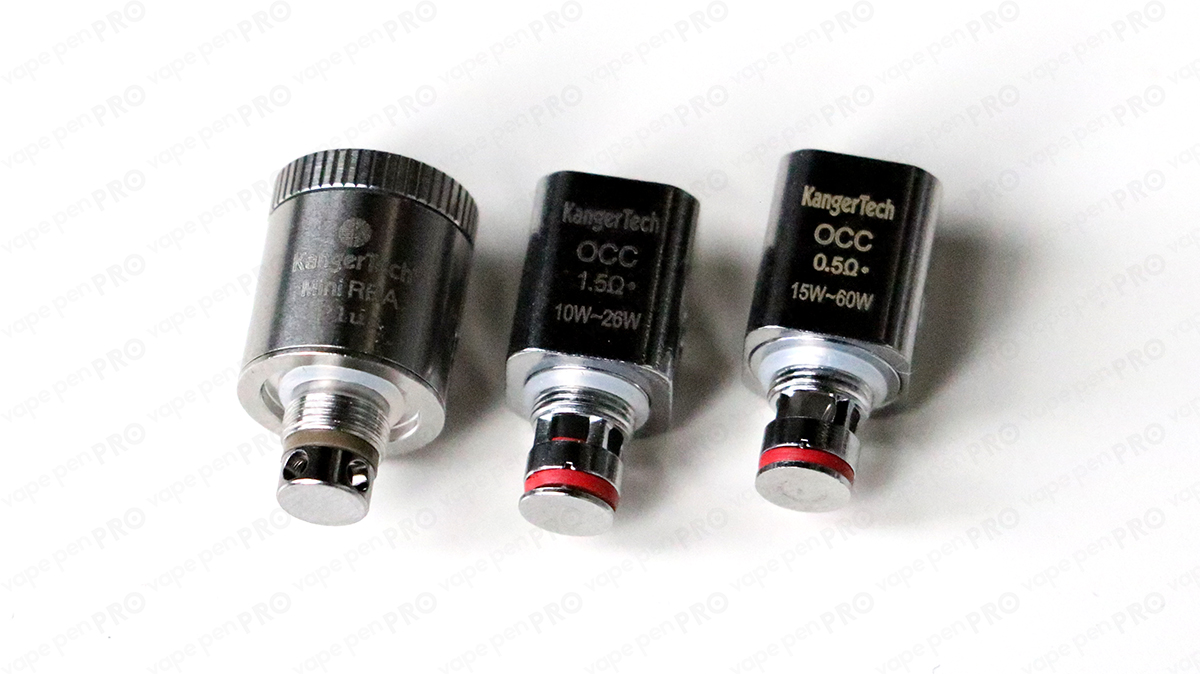 OCC stands for Organic Cotton Coil, the SUBOX includes one 0.5 SUB Ohm and one 1.5 Ohm coil. The 1.5 Ohm vertical OCC produces fewer flavors but uses less juice and battery, but not enough vapor and flavor in my opinion. I prefer the 0.5 SUB Ohm. It's packed with power and produces a very good amount of vapor and flavor. The downside is it uses more battery and takes up more liquids.
A lot of people find the RBA coils worth the time, because they can produce exceptional flavor, and they are less expensive. But, the ready-to-use OCC coils are easier to use and change out quickly when it's time to replace the coil.
The OCC coils use less power and keep the battery going longer. With both types of coils included in this kit, you can experience the best of both worlds right out of the box.
In our trials, the 1.5 Ohm pre-made OCC does not produce as much flavor or vapor as the sub-ohm 0.5 OCC coil, but it uses less battery charge to run it.
RBA Coil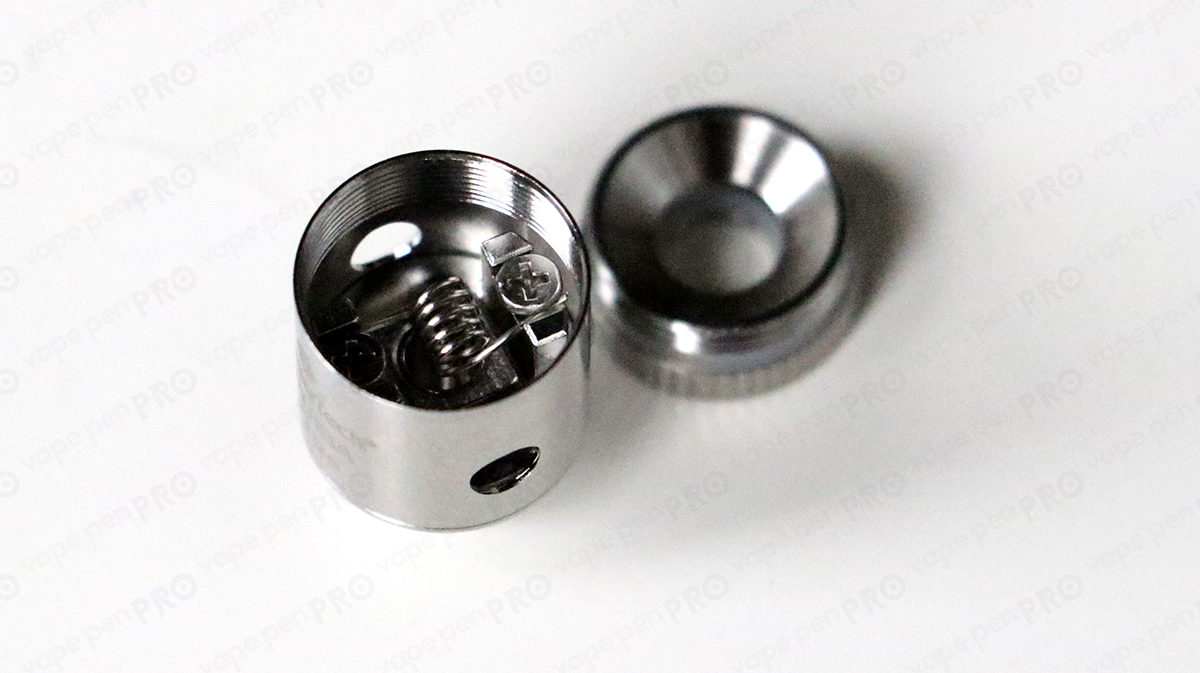 Another new feature on the SUBOX RBA coil is the addition of two holes for improving airflow and wicking. It also makes changing the wick easier. Loosen a single screw, and the housing comes off. The wick is then easy to thread through the coil. Trim the excess, replace the housing, and you're ready to go. Changing the wick is now a lot easier:
Loosen screw on the side and remove housing
Thread wick through coil and trim excess
Put housing back on and tighten screw
Trim excess wick and your ready
---
Battery Life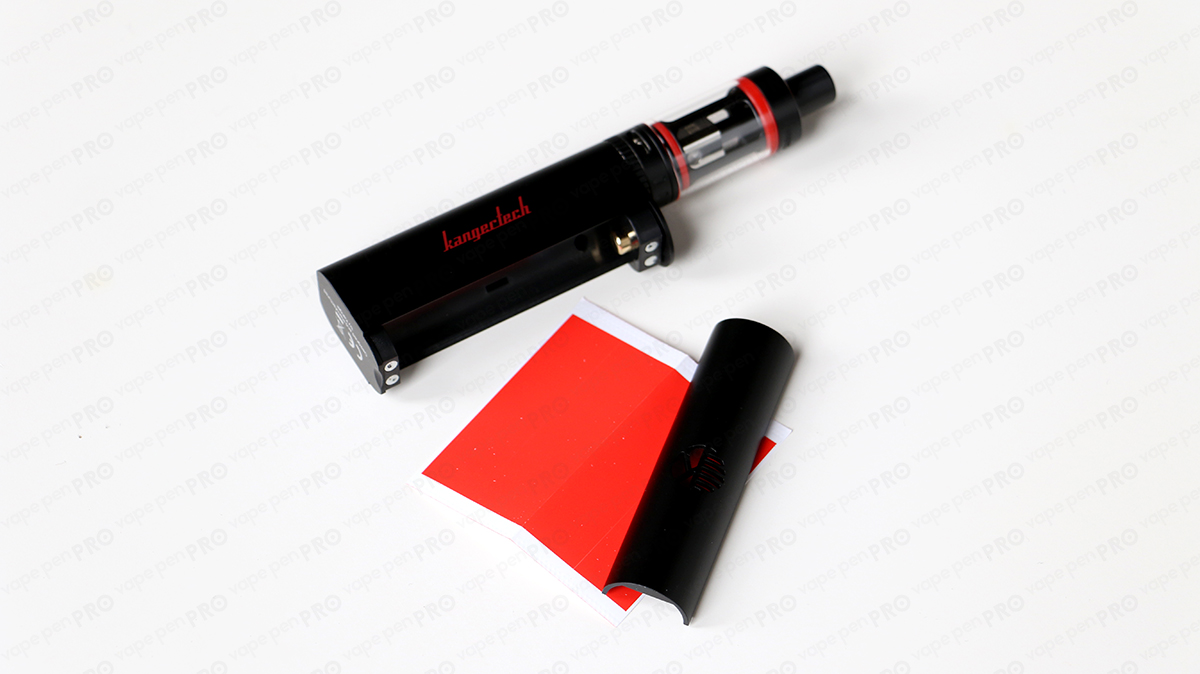 If you didn't know already, the SUBOX doesn't come with a battery. Kind of a draw back but you can easily pick up an 18650 battery online. Kanger recommends a battery with an output of at least 20amps. If you're going to use the SUBOX at 50W then you need to consider the mAh's. At 50W a higher mAh will use more power and reduce battery life. I recommend a setting of 10W to 20W with a 2500 mAh capacity battery. The battery case itself is very nice. It connects to the unit via magnets, which makes it easy to open but strong enough to stay closed.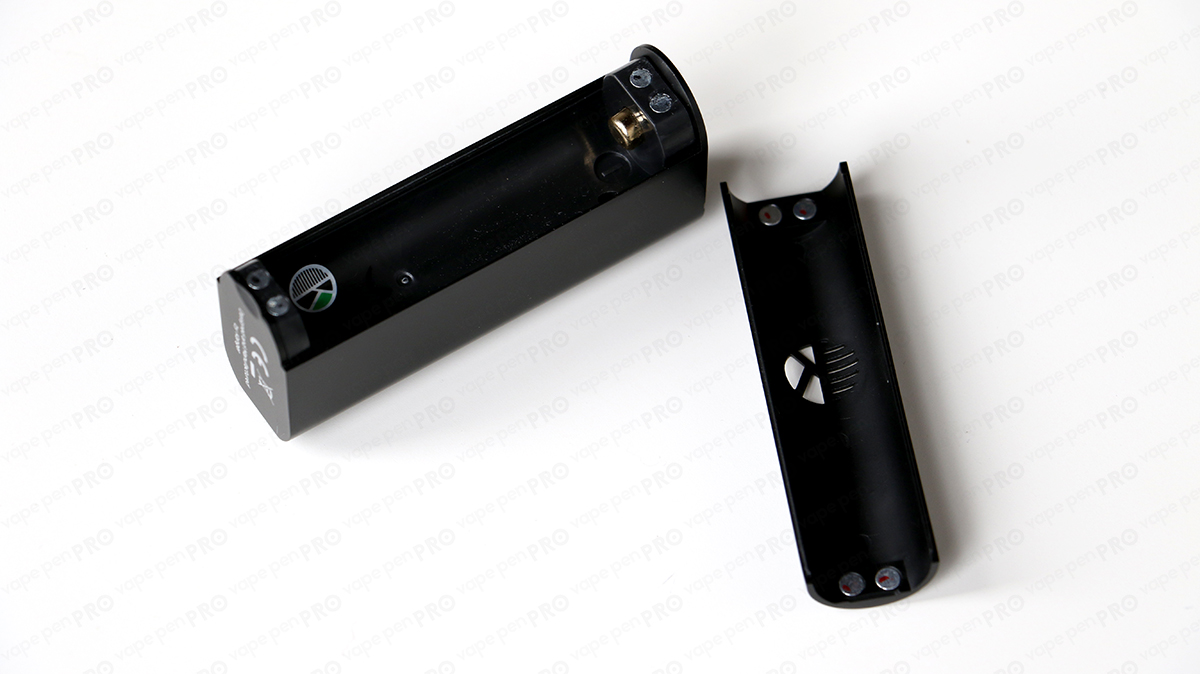 Included are red stickers that you can put on your battery to match the unit. All things considered, the SUBOX lasts a long time on a single change. You can plug in the mini USB to recharge and still use it.
---
Vape flavor settings
I vaped with King's Crest Duchess e-liquid to write this review. It's a 30/70 PG to VG e-liquid. My preference was more in the middle wattage range 15W to 25W. I found 10W to be way too weak and not preferable. 15W produces a nice cloud with a good taste. 20W really hit the mark for me. Huge cloud, best taste and easy draw. 30W was nice too. A little warm but nice. 40W was getting a little hot for my preference. Big clouds but taste was a little too concentrated. 50W! Don't bother unless you enjoy fire in your mouth 😉
---
Final Thoughts
KangerTech's new SUBOX Mini 50W Starter kit gets close to the top on our best vape pen review list. We give this starter kit a rating of 9 plus on the top five most important features in a pen vaporizer.
Ease of use
For ease of use, the Kanger SUBOX Mini gets a rating of a solid 9. Simplicity in a vape pen is of major importance for many people, especially people new to vaping. This model comes in strong with easy, single-button functionality and a large OLED display that lets you see the wattage and battery life in real time.
Battery Life
On battery charge life, this vaporizer comes in at 9.5. Too many vaporizers out there do not come through on length of battery charge, bringing frustration and down-time to the vaporizing experience. Not the Kanger SUBOX Mini. The long-lasting battery charge on this model is well above average. You can also use the USB port for recharging while continuing to vape.
Heat Time
Heat time also gets a rating of 9 in our opinion. Heat time is how long a vape pen takes to reach vaporization point, making it ready for taking a hit. The Kanger SUBOX Mini has a very respectable heat time of about five seconds. This is a responsive devise.
Size
On rating for size, this model also comes in at a 9. At just under 3 ¼ inches and just over 4 ounces, this is a vaporizer of exceptional portability and minimal weight. It's easy to hold and easy to carry, besides having a sleek, simple, and attractive outer casing design.
In spite of its small size, the SUBOX Mini has the nice, solid feel of a well-constructed vaporizer. There is nothing flimsy or lightweight about the feel or construction of this devise.
Price
On price, the Kanger SUBOX Mini rates a 9.5. The kit is available at a very reasonable price for under $60 dollars.
Besides not coming with a battery, two other downsides to this model are the lack of a loading pin spring and no temperature control.
But for its price, the Kanger SUBOX Mini 50W Starter Kit is at the top of the list with the most important features in a vape MOD: It's easy to use, small and sturdy, heats fast, and has great battery life. On top of all that, it sells for an unbeatable price.
Save