Today more people are getting on the vaporizer bandwagon than ever before. The easiest way to jump into this world is to buy a vape pen starter kit. A typical starter kit will come with the vape pen itself, a few ohm tanks, a recharging unit (with USB and/or wall and car plug) and some liquid to get you started. These kits will typically come with 1 or 2 batteries, a usb charger and a sample pack of flavors. Either you go big or small, 2016 is the time to get started with vaping.
---
VaporFi Vice Starter Kit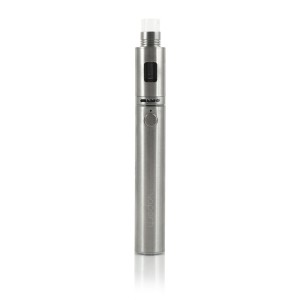 The VaporFi Vice Starter Kit is a truly simple and elegant vaporizing pen, perfect for the beginning sub-ohm vaporizer enthusiast – or anyone looking for simplicity and functionality in a vape pen. Several features on this unit make it one of the easiest to use vape pens on the market today.
A big plus for beginners on this vaporizer is the one button operation. Pressing the button rapidly five times turns the unit off and on. Pressing the same button five times again starts the coil when you are ready for vapor. It could not be simpler.
Size isn't everything, and this unit proves it. Measuring in at just under 5.5 inches, the VaporFi fits easily in the palm of your hand. But, concealed inside this unit's tiny, stainless steel frame is a fantastically powerful battery for a vaporizer of this size, delivering 2200 mAh of power.
The 2.5 ml tank is on the small size for vape pen possibilities, but this one has a well-designed airflow control with two, hefty vent holes for large and luscious vapor clouds to make up for it. A glass window lets you easily keep an eye on e-liquid levels, so you never run dry and risk burned hits.
The VaporFi Vice Starter also comes with three atomizers that are easily interchangeable for adjusting the ohm level on the devise. This vape pen works exceptionally well with high VG (vegetable glycerin), low nicotine e-juice, producing massive clouds of flavorful vapor with every puff.
Another attractive feature on this unit is the side mounted USB port, letting you charge the unit in an upright position and preventing it from rolling off the table while it is charging.
This is one of the easiest to use vaporizers available, perfect for anyone who wants single button, worry-free use.
Best Product Features: Ease of use. Great for beginners. Upright charging feature. Moderate price.
V2 Pro Series 7 Kit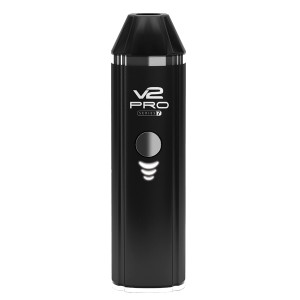 The V2 Pro Series 7 vapes dry herbs, wax and oil concentrates. This vape pen kit comes with 3 different cartridges.
The Series 7 Liquid Cartridge is used for oil concentrates and e-cig flavors. The tank can hold up to 2.4ml of liquid. The temperature settings really help enhance the flavors.
The Series 7 Loose Leaf Cartridge is used for your dry herbs. The chamber can easily hold a typical bowl size amount. It's very easy to pack and becuase the pen is very portable you can pack it on the go.
And the Series 7 Wax Cartridge is used for your wax!
Best Product Features: High wattage. Bluetooth compatible. Temperature control. Battery included. Great value for the price.
Reliant 60W ProKit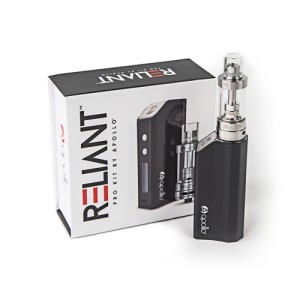 Apollo's Reliant 60W ProKit is setting new standards in the vape pen industry. The unique Phazer tank in this advanced model gives you outstanding air and e-liquid control for custom designed clouds of your favorite vapor. The compact, palm-of-the-hand size makes using the Reliant 60W ProKt easy – anywhere, anytime.
The built-in Temperature Coefficient of Resistance (TCR) setting is among the most sophisticated vapor temperature controls available with any vape pen you will find today. You choose between firing modes for wattage, temperature, or mechanical activation, giving this vape pen maximum flexibility for delivering a supreme vaporizing experience of flavor-packed vapor clouds.
The temperature control firing mode allows for a temperature range from 200º to 600º F., and it is compatible with titanium and nickel batteries. The auto-sensitive atomizer knows when the coil is getting dry and alerts you, preventing dry or burnt hits.
The wattage firing control mode gives you a power range from 5 watts to 60 watts and the flexibility of using the atomizer of your choice.
The mechanical firing control mode works by sending the battery power straight to the coil while keeping all the built-in safety features working.
Flexible charging options are another great feature on this vape pen. The battery can be charged by removing it from the devise and putting it in the charger, or you can use the USB pass-through and charge the device while you are vaping.
The easy to read LED display gives you on-going data on what your vape pen is doing at every moment. You can also shut off the LED for stealth vaping without lights.
If you are looking for supreme portability and a high degree in flexibility, the Apollo Reliant 60W Starter Kit is definitely worth checking out.
Best Product Features: 3 firing modes –temperature, wattage, and mechanical. USB pass-through charging. Compact size. Moderate price.
VaporFi VOX II MOD Starter Kit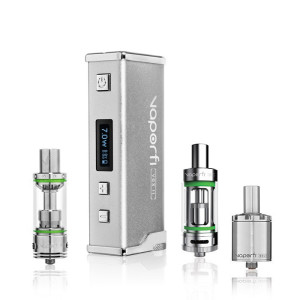 The VaporFi Vox II Mod Starter kit is an advanced vaporizing devise for the serious connoisseur of e-liquid vapor. Elegant and modern looking, this vape pen gives you a fantastic range of flexibility and options for enhancing your vaping pleasures to the max.
Three advanced tank options are available for the VaporFi:
The Volt Hybrid tank has an ample, 4.5 ml storage capacity and comes with 20 Japanese, organic cotton wicks, a Pyrex glass tank, an adjustable air-flow, re-buildable deck, and mini screwdriver set for switching components.
The Edge TC tank is a temperature control tank with a built-in 0.5 ohm atomizer, a full 7 ml. tank capacity, adjustable air-flow, extra-large, 12 mm drip tip, and sophisticated cooling system engineering design. It also has adjustable e-liquid holes in three sizes.
The Bolt RDA tank is stainless steel and comes with 4 extra O-rings, 1 drip tip, adjustable air-flow, and a dual-coil.
The high capacity, 2500 mAh, 35A battery gives you long-lasting charges for prolonged vaping sessions. Wattage can be adjusted to 5 settings from 7W to 50W, and the USB pass-through feature lets you keep the vaping coming while the unit is charging.
The flush mounted buttons are tactile-friendly, making them easy to find in the dark. The OLED screen, battery protection, and auto resistance meter are engineered for both simplicity and safety.
While the VaporFi VOX II MOD Starter kit has a price tag a little higher than other vape pens on this list, this bundle delivers a lot of extra options and superb quality for the money.
Best Product Features: 5 wattage settings. 3 advanced tanks available – The Volt Hybrid, the Edge TC, and the Bolt RDA. Superior craftsmanship.
Apollo Vtube V4.0 Kit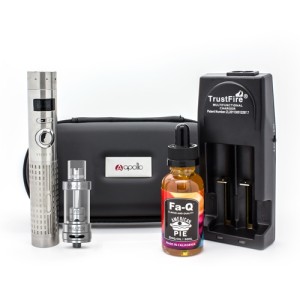 The Apollo Vtube V4.0 kit is a model incorporating some improvements over the Apollo V3.0 vape pen kit. Wattage output has been increased in the Apollo Vtube V4.0 kit, putting it in line with the latest sub-ohm vaporizer technology.
This vape pen can use atomizers with as little as 0.2 ohms for producing thick, flavorful, and smooth vapor clouds. The Apollo Phazer sub-ohm tank is mess-free and has a dripping setup and re-buildable coils.
A spring loaded pin eliminates connection problems between the tank and atomizer or clearomizer. 510 and eGo threading make the devise easy to assemble and clean.
The real-time LED display gives you instant access to wattage setting, volt output, atomizer ohm resistance, battery life, and also includes a re-settable puff counter.
The Panasonic 18650PF battery is designed for extra- long life. The batteries are loaded with a spring clip, assuring good contact at all times. A duel 18650 charger is included.
The simple, 3 button set-up is easy to understand and use, and the locking feature prevents accidents and unnecessary battery wear.
The Apollo VTube V4.0 vape pen is made of stainless steel, and it comes with an attractive carry case in optional colors of blue, green, pink, silver, and red. Also included is a 30 ml. sample of your choice of one of many Max VG e-liquids.
Best Product Features: Long-life battery. Accident prevention lock. Carry case. 30 day money back refund policy and a limited lifetime warranty. Moderate price.
---
Runner Ups!
Zema Dry Blend Vaporizer
Cloud V Terra
Pulsar® Vibe Vaporizer
---
Final Thoughts
Vape pens are precision electrical devices. All components in all vaporizer pens, especially electrical components and contacts, should be handled and maintained carefully to prevent accidents and malfunction. Always read and follow the manufacturer's instructions for any vaporizer you purchase.
Be especially careful about what kind of battery you use in your new vape mod pen. Check the manual, or contact the manufacturer, if you are unsure about which battery to use. And always use the correct charger for the batteries you are charging. When properly maintained and used, vape pens are safe and require minimal maintenance.
Whatever you desire from an e-liquid, vaporizing pen, there is a model available that is perfectly matched for your vaporizing dreams.
Save