The evolution of atomizers, finely-tuned digital features for wattage and temperature control, and a fantastic range of aesthetic styles are swirling into the marketplace like the vape clouds themselves.
Whether you are a beginning vaper or an experienced pro, take a look at these new and exciting vape MOD models in our current list of 7 of the best vape MODS available right now.
---
Apollo Reliant 60W Temp Control + TCR Mod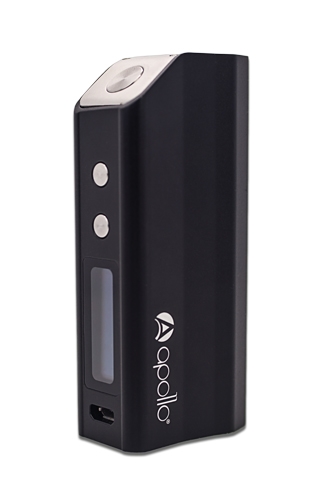 This latest release from Apollo features the Phazer tank with advanced temperature control and TCR. The Phazer's specially designed features allows you full control of both e-liquid and air flow with sub-ohm capacity, producing satisfying clouds of your favorite vapor flavor.
The Apollo Reliant 60W TCR Mod has 3 firing modes for the most precise vaping experience possible. You choose from temperature control, wattage control, or mechanical control, so you get the exact vapor pleasure you are seeking.
Temperature control mode gives you:
A temperature range from 200º to 600º F. and up to 60 watts of power
Compatibility with titanium, nickel, and stainless atomizer coil wires
Built-in protection against the atomizer firing when the coil goes dry, eliminating dry and burnt hits
Wattage control mode gives you:
Compatibility with non-temperature control wire and kanthal coils. The 5W to 60W power range gives you flexibility for using any clearomizer or atomizer you want.
Mechanical mode gives you:
Direct power from the battery protected by built-in safety features.
This model of Apollo Reliant also provides high flexibility for charging, with both swap out, rechargeable 18650 batteries and USB pass-through.
The easy to read LED shows you everything you need and want to know about your vaping session in real time. If you don't want lights, it even has a Stealth mode for vaping in pure darkness.
Beyond all these great features, The Apollo Reliant 60W temperature control and TCR Mod is ultra-ergonomic and fits in the palm of your hand. It is a great value for its modest price
Best Product Features:
3 mode temperature control,
Atomizers down to .06 ohm,
Single 18650 battery,
Easy to read LED screen,
Stealth mode,
Adjustable screen,
Wide range of built-in safety protection.
VaporFi VOX Mini 40 Watt MOD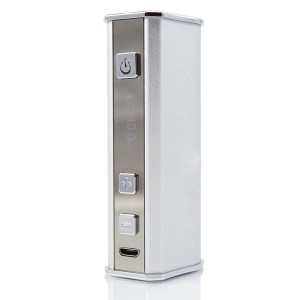 Don't let the small size of this new release from VaporFi give you the wrong impression. The VOX Mini 40W MOD does not skimp on features, flexibility, or vaporizing power, in spite of its compact size.
The sleek, pocket size of the VOX Mini is making it popular with both men and women vapers everywhere. And the stainless finish with a bold, dark stripe is uni-sexually stylish as well.
Adjustable wattage lets you cruise from 7W all the way to up to 40W with atomizers from 0.3 ohm to 3.0 ohm resistance. USB pass through charging makes it easy to charge anywhere and anytime. For safe recharging, always be sure to use the charger that comes with this unit.
The VaporFi VOX Mini 40W is compatible with a wide variety of VaporFi tanks, which can be purchased separately or in a bundle. Each compatible tank has its own special features including:
The Volt Hybrid tank: 4.5 ml storage. .05 ohm, 15-30W atomizer, organic Japanese cotton wicks, mini-screwdriver set, and a rebuildable deck.
The Rebel Clearomizer tank: 4 ml capacity, 2.6 ohm resistance, dual coil, and adjustable airflow, and Pyrex glass cylinder.
The Vice Sub Ohm tank: 2.5 ml capacity, .05 resistance and, adjustable airflow.
Best Product Features:
Built-in 35 A battery,
Flexible wattage and atomizer resistance,
Easy to read OLED screen,
510 threads and spring-loaded pin,
Vented battery case,
Super-mini size, measuring only 81.5 x 35mm x 22 mm.
VaporFi VOX II MOD
Another outstanding VaporFi model upgrade, the VOX II MOD outdoes all MODs in its class. 7W to 50 watts of power provides you with all the flexibility you need for massive clouds of luscious vapor.
The flush control buttons give the surface of this MOD an extra touch of elegance, and 5 temperature settings allow for super-safe vaping when you hit on low resistance levels.
The VaporFi VOX II is compatible with atomizer resistance ranges of 0.2 ohm to 3.0 ohm. The Auto Ohm Resistance Meter automatically dials in the optimum voltages for RBA and RDA atomizers.
Output short-circuit protection, reverse battery protection, high voltage input warning, and a device safety lock all keep you secure while vaping and while charging your MOD.
The VaporFi VOX II is available in five colors to match any style or wardrobe: red, pink, silver/grey, blue, and black.
It is essential to use only 100-240 volt 50-60 hertz wall chargers and adapters with an output of 5V/500 mAh when charging this devise.
Try this transforming vaporizer experience and see for yourself what new heights you can reach with this state-of-the-art vaporizer technology.
Best Product Features:
Adjustable wattage,
Elegant stainless exterior,
Auto ohm resistance meter,
Reverse battery protection,
Flush control buttons,
510 threads and spring loaded pin.
Sigelei V2 50 Watt Bundle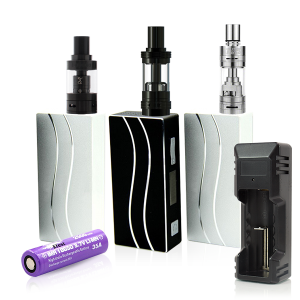 This Mod is the one for you, if you are looking for a bundle that comes with three tanks and a built-in Yihi chip. One 18650 battery pops in effortlessly behind the dual magnetic battery cover.
Dropping down to a .02 ohm resistance is no problem with this devise. It comes with a high-drain battery charger and has a mini USB port on the side for charging flexibility. The 35A 2500 mAh 18650 battery is included.
The 3 separate tanks include:
The Uwell Crown Subtank offers a 4 ml. tank with both bottom and top filling options and multiple coil configuration capacity.
The Sense Baijiada Mermaid tank is a well-crafted mini design with stainless steel frame, Pyrex tank, 2 ml. filling capacity, and adjustable airflow.
The Artic Turbo Sub Ohm tank is a completely unique tank design with a sextuplet coil.
This device is loaded with safety features for temperature, reverse battery, low voltage and low resistance, and output short-circuit protection, giving you peace of mind whenever you vape or charge the MOD. The Sigelei V2 50W also comes with a 15 day, no restocking fee return policy and a 60 day warranty.
Best Product Features:
3 separate tanks; Uwell Crown, Sense Baijiada Mermaid, and Arctic Turbo Sub-ohm,
Su-ohm capacity to 0.2 ohm,
Magnetic battery cover,
Micro USB port,
35A flat-top 18650 battery and charger included.
iPV 4S 120W TC MOD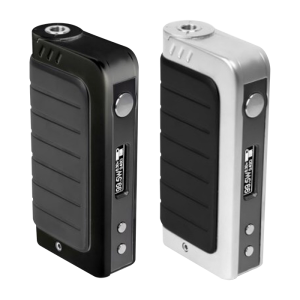 At an exceptionally low price, the iPV 4S 120W TC MOD descends from a Mod series known for well-designed, innovative vaporizers and exceptional craftsmanship. The extra fine temperature tuning capability in this devise creates extra flavorful, warmer vapor, making some vapers hail it as "The best MOD ever!"
The iPV has an exciting wattage range from a cool 10W all the way up to a sizzling 120W for those who enjoy extra-heavy hitting. A state-of-the-art Yihi SX330-V4SL chip adds even greater temperature selection and control fine-tuning.
Slimmer and more rounded on the sides than earlier editions, the iPV 4S 120 TC MOD is easier to hold in your hand than its older sibling models. The body is made of light weight, but extra durable aluminum, making it perfect for carrying in a pocket or purse. Body color choices of black and silver are available.
This is an advanced vape MOD for experienced vapers. The iPV 4S requires 2 18650 batteries and a matching charger, which are not included.
Best Product Features:
Amazing wattage range from 10W to 120W,
Ti titanium and .012 -1.0 ohm Ni200 nickel atomizers,
YiHi chip for advanced control,
Low voltage / low resistance / temperature overheating / and short circuit safety protection built-in,
Outstanding price for value.
Tesla Wood 160W TC MOD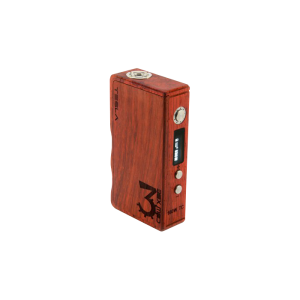 Inside the Tesla Wood 160 watt TC Mod is an exceptionally powerful, technologically up-to-the-minute vaporizer device. On the outside, this MOD has a down-to-earth, old-fashioned wooden finish and an appealing and unique vape MOD personality all of its own.
This is a perfect MOD for woodsmen (and woods women!), hunters, fishing and outdoor enthusiasts, and anybody else who appreciates the rustic style and comfort of an attractive, real wood body in their vape MOD.
Inside, the Tesla Wood 160W handles a temperature range from 200º to 600º F. (100º – 300º C) and a wattage range from 7W all the way up to an astonishing 160W. This is a vape MOD for advanced vapor enthusiast looking for the ultimate vapor cloud experience.
Atomizer resistance for the Tesla Wood 160W ranges from 0.15 ohm for kanthal coils and 0.08 ohm to 1.0 ohm for Nickel 200 coils. The electrode is spring loaded copper.
One of the coolest features of the Tesla Wood 160W is the adjustable OLED screen which conveniently reverses for left-handed users. Two 18650 batteries are required for this devise and are sold separately.
Best Product Features:
Beautiful exterior wood finish,
Sub-ohm capacity,
Extra broad wattage range from 7-160W,
Temperature control,
Simple battery installation,
Reasonable price for a MOD in its class.
SMY 170 TC MOD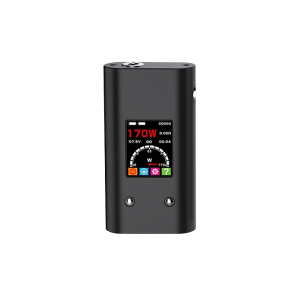 Following in the footsteps of its older sibling, the SMY 170 TC MOD is a well-designed, powerhouse MOD capable of delivering truly awesome wattage and long vaping sessions between recharges. This MOD has two power modes.
In temperature control mode, the SMY 170 can reach a toasty 170 watts of power. In power mode, it packs a sky-high 200 watts. For the experienced and well-seasoned vapor, this model will take heavy hitting enthusiasts to the limit. At the lower end, the SMY 170 dials down to a cool 3 Watts.
The SMY 170 TC MOD comes with a USB charger, instruction manual, cleaning cloth, and a gift box. Black or white body color options and a stainless steel or a brushed metal finish are available. This MOD requires 2 18650 batteries which are sold separately.
The large OLED screen on this MOD gives you color digital display and easy adjustment of all vaporizer controls in real-time.
Best Product Features:
200 watt capability with standard coils,
170W TC mode for nickel 200 and Ti coils,
Temperature range of 200º to 600º F,
0.5 to 3.0 ohm resistance range,
510 threads,
Body color options of black or white.
Save